The Future of Space-Age Risk Management: Transformative and Integrative Risk Management! [BOOK] By © Copyright 2014 Mr. Andres Agostini (AA) ─ All Rights Reserved Worldwide ─ « www.linkedin.com/in/andresagostini »
(An Independent, Solemn, Most Thorough and Copyrighted Answer. Thoroughness, hereunder, will be then redefined by several orders of magnitude and without a fail).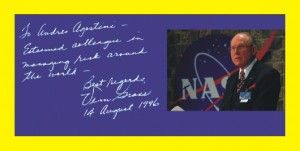 What is a White Swan?
Continue reading "The Future of Space-Age Risk Management: Transformative and Integrative Risk Management! By Mr. Andres Agostini [BOOK]" »