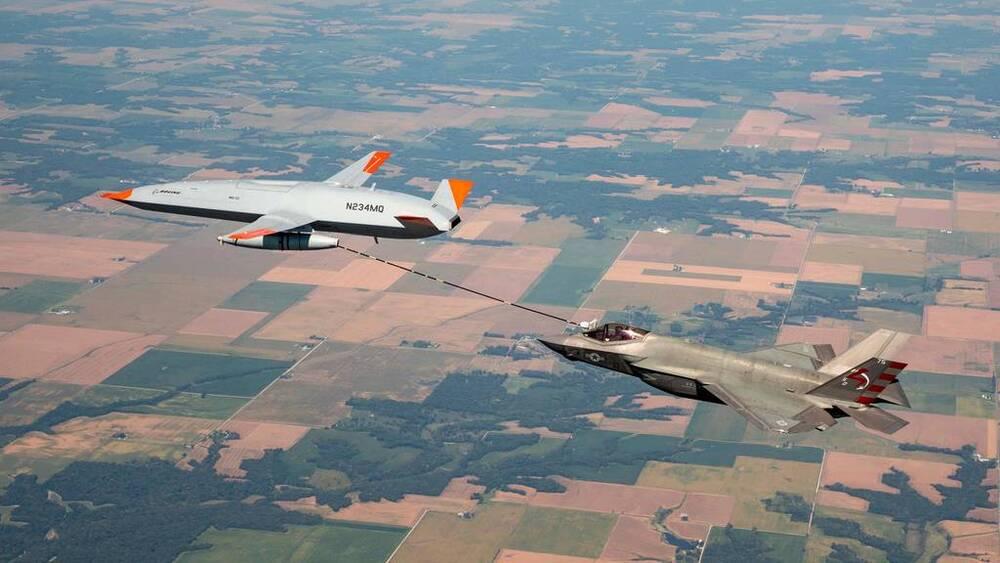 "Once operational, the MQ-25 will refuel every receiver-capable platform including E-2," Reed said in a separate news release on the August flight test between T1 and the Navy's Air Test and Evaluation Squadron Two Zero (VX) 20. "This flight keeps us on a fast track to getting the Stingray out to the fleet where its refueling capability will greatly increase the range and operational flexibility of the carrier air wing and strike group."
The first aerial refueling test was conducted on June 4, when an F/A-18E-F Super Hornet refueled in air with the unmanned tanker for the first time in naval aviation history. In this first in-air encounter with the drone, a Super Hornet approached to take measurements, made several "dry connects" to practice connecting and detaching from the tanker, and made two actual refuelings, with 300 pounds and then 25 pounds of fuel being passed from the Stingray to the Super Hornet at different altitudes and flying conditions.
Last month, the Navy and Boeing conducted in a virtual environment the first manned-unmanned teaming event between the Stingray and a Super Hornet, where the manned jet bypassed the ground control station and communicated directly with the tanker drone to give directions on where and when to rendezvous for a refueling.