Lifeboat to the Stars Winners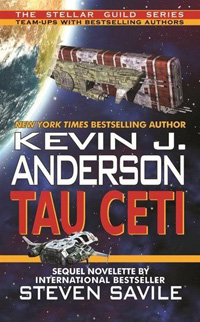 Abstract
Anderson and Savile win New $1,000 Science-Fiction Award
New $1,000 cash award for science fiction writing
Theme: interstellar fiction
Finalists: Anderson & Savile, Benford & Niven, Bishop, Bova, McDevitt, Reynolds, and Santos.
Coordinating judge: Robert J. Sawyer
Presented at the 2013 Campbell Conference
Story
June 15, 2013 — The Lifeboat Foundation presented the "Lifeboat to the Stars" award to Kevin J. Anderson and Steven Savile for their collaborative book
Tau Ceti
. The authors split the $1,000 prize, and each received a handsome trophy in an hourglass design.
Anderson was in attendance at the ceremony, and received the award from SFWA Grand Master
James Gunn
; Savile, who lives in Sweden was not able to join us at the event.
The "Lifeboat to the Stars" award honors the best work of science fiction of any length published in 2011 or 2012 contributing to an understanding of the benefits, means, and difficulties of interstellar travel.
Editors and readers were invited to nominate eligible works and a judging panel drawn from Lifeboat Foundation advisory boards winnowed that 50-plus-item long list down to a final seven-item ballot.
Coordinating judge was Hugo, Nebula, and Campbell Award-winning science fiction writer
Robert J. Sawyer
, consulting judge was
Greg Bear
, and the other judges were
Catherine Asaro
,
Jason Batt
,
Sherry E. Bell
,
Kevin M. Berry
,
Brenda Cooper
,
Niklas Järvstråt
,
Jim Karkanias
,
Rouslan Krechetnikov
,
Eva-Jane Lark
,
Mike E. McCulloch
,
George Perry
,
John K. Strickland Jr.
, and
Allen G. Taylor
.
The finalists were:
Anderson, Kevin J. and Steve Savile. Tau Ceti. Arc Manor, 2011.
Benford, Gregory and Larry Niven. Bowl of Heaven. Tor, 2012.
Bishop, Michael. Twenty Lights to "The Land of Snow" from the anthology Going Interstellar, Baen, 2012.
Bova, Ben. A Country for Old Men from the anthology Going Interstellar, Baen, 2012.
McDevitt, Jack. Lucy from the anthology Going Interstellar, Baen, 2012.
Reynolds, Alastair. Blue Remembered Earth. Ace, 2012.
Santos, Domingo (translated by Stanley Schmidt). The First Day of Eternity. Analog, January–February 2011.
The award was suggested by
James E. Gunn
and
Frederik Pohl
and named by Gunn.
Tau Ceti
was the first volume in Phoenix Pick's "Stellar Guild" series, which pairs an established writers — in this case,
New York Times
bestseller Anderson — with his or her handpicked protege to write a pair of connected works. Mike Resnick is the series editor. Phoenix Pick is the science fiction imprint of Arc Manor Publishers, Rockville, Maryland.
Says coordinating judge Sawyer: "
Tau Ceti
tells of a generation ship approaching that nearby sun-like star of the title, and it does so in an unusual manner, combing a novella by Kevin J. Anderson and a sequel novelette by Steven Savile into one fast-paced, character-rich, technologically accurate adventure story.
"In the capable hands of both authors, interstellar travel doesn't just seem possible but inevitable, and they bring real depth to the issues of generation ships, the politics surrounding such voyages, and the danger A.E. van Vogt first alerted us to in the classic
Far Centaurus
, namely that just because you head out first doesn't mean you'll arrive first.
"
Tau Ceti
is a terrific work of hard science fiction, and the Lifeboat Foundation congratulations the authors and their editor, Mike Resnick."
####
About Lifeboat Foundation
The Lifeboat Foundation is a nonprofit nongovernmental organization dedicated to encouraging scientific advancements while helping humanity survive existential risks and possible misuse of increasingly powerful technologies, including genetic engineering, nanotechnology, and robotics/AI, as we move towards the Singularity.
Contacts:
Lifeboat Foundation News office
1468 James Rd
Gardnerville, NV 89460, USA
+1 (512) 548-6425
[email protected]