Teachers in Space, Inc. wins Dream Project contest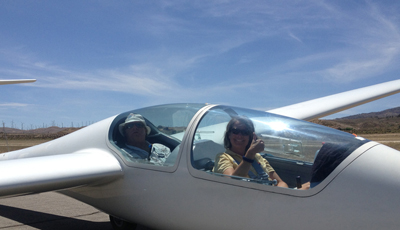 Abstract
Teachers in Space, Inc. wins
Dream Project
contest
Story
January 9, 2018 — The winner of our Dream Project contest is
Teachers in Space, Inc.
We will be funding classroom experiments that will fly aboard the Perlan II stratospheric glider which just set the world altitude record. The glider is currently in Minden, Nevada which happens to also be the location of our headquarters! More information about these experiments will be available soon.
Learn more
about our Dream Project contest!
Teachers in Space
Teachers in Space, Inc.
is a nonprofit educational organization which stimulates student interest in science, technology, engineering, and mathematics (STEM) by providing their teachers with extraordinary space science experiences and industry connections.
Their professional development workshops for STEM teachers include personal and experimental flight opportunities, hands-on work with data sensors and remote device control, opportunities to meet and interact with scientists and developers at NASA and commercial space companies, and unique teaching materials and design contests to take back to the classroom.
Teachers In Space, Inc. sparks a transfer of passion for space science and exploration from teachers to their students, preparing and encouraging those students to pursue further education and exciting, rewarding careers in the emerging space industry.
####
About Lifeboat Foundation
The Lifeboat Foundation is a nonprofit nongovernmental organization dedicated to encouraging scientific advancements while helping humanity survive existential risks and possible misuse of increasingly powerful technologies, including genetic engineering, nanotechnology, and robotics/AI, as we move towards the Singularity.
Learn about the world's first bitcoin endowment fund at
https://italian.lifeboat.com/ex/bitcoin
.
Contacts:
Lifeboat Foundation News office
1468 James Rd
Gardnerville, NV 89460, USA
+1 (512) 548-6425
[email protected]